Martyna Kander – scenografka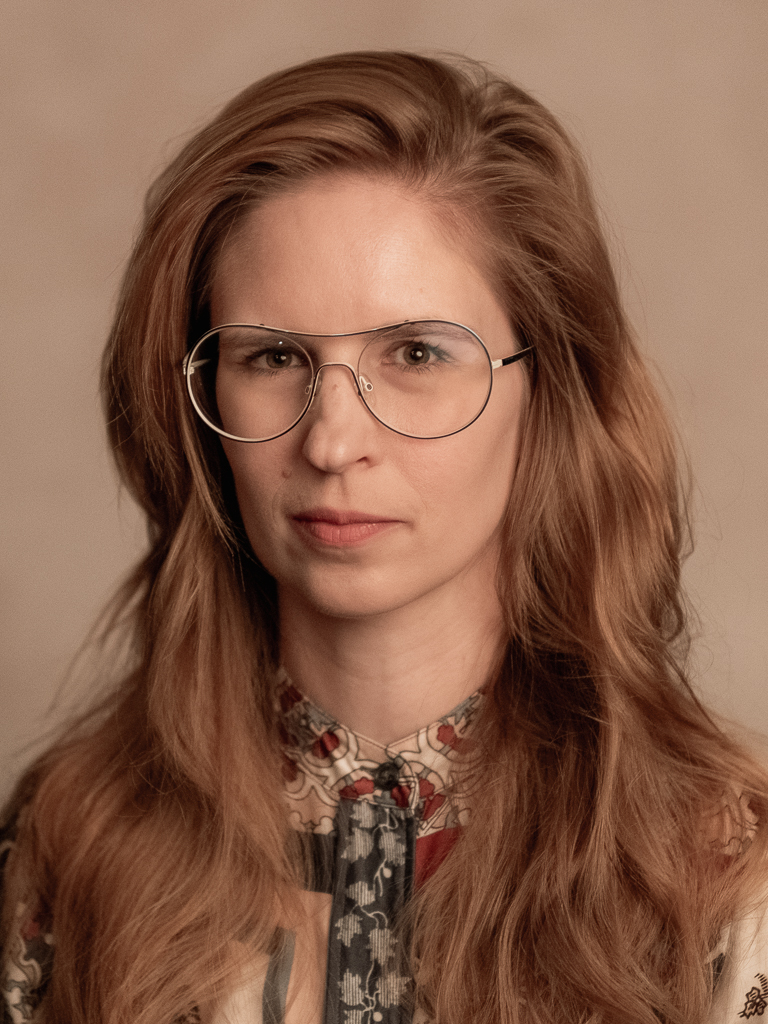 Fot. Marta Ankiersztejn / Archiwum Artystyczne Teatru Narodowego
Scenografka, kostiumografka. Absolwentka Wydziału Sztuki Nowych Mediów i Scenografii warszawskiej Akademii Sztuk Pięknych (2012); od 2014 roku asystentka, a od 2018 roku adiunktka na Wydziale Scenografii tej uczelni.
Współpracowała m.in. z Natalią Kozłowską (kostiumy: Księżycowy Pierrot Schönberga, 2013; Agrippina Händla, 2014; Pigmalion Rameau, 2015), Marcinem Hycnarem (Tonacja blue Hare'a, 2014; Romeo i Julia Shakespeare'a, 2015 – kostiumy; Opowieści o zwyczajnym szaleństwie Zelenki, 2016; Księżniczka na opak wywrócona Calderóna, 2019), Natalią Babińską (Hrabina Marica Kálmána, 2014; Rigoletto Verdiego, 2014 – kostiumy; Historia najmniej prawdopodobna Kornowicza, 2015; Dokręcanie śruby Brittena, 2016; Straszny dwór Moniuszki, 2019), Robertem Bondarą (Legenda Bałtyku Nowowiejskiego, 2017 – kostiumy; Szeherezada Rimskiego-Korsakowa, 2018; Medea Barbera, 2018; Faust Chopina, Mozarta, Pärta; 2020; Na kwaterunku Moniuszki, 2019; Alicja w Krainie Czarów wg Carrolla, 2022), Wawrzyńcem Kostrzewskim (Król Lear Shakespeare'a, 2021) czy Anną Gryszkówną (Panny z Wilka. Rapsod Iwaszkiewicza, 2021). W Teatrze Narodowym przygotowała scenografię i kostiumy do Opowieści zimowej Shakespeare'a (2017), Śniegu Przybyszewskiego (2021), Mizantropa Moliѐre'a (2022) i Alicji Krainy Czarów wg Carrolla oraz kostiumy do Letników Gorkiego (2019) oraz Barona Münchhausena dla dorosłych Wojtyszki (2022).

Brała udział w wystawach, m.in. The International Stage Design Students' Works Exchange w National Centre for the Performing Arts w Pekinie (2012), Scenografia 6D w Muzeum Śląskim w Katowicach (2012), Wykluwanie kostiumu w Opera Nova w Bydgoszczy (2014), Wymiary scenografii w Muzeum Śląskim w Katowicach (2016), World Stage Design w Calgary (2022).
Laureatka m.in. Nagrody im. Jana Kiepury w kategorii najlepsza scenografia (Dokręcanie śruby Brittena, 2017; Szeherezada Rimskiego-Korsakowa i Medea Barbera, 2019; Na kwaterunku Moniuszki, 2020); Nagrody Sekcji Scenografów ZASP im. Andrzeja Pronaszki oraz Nagrody Scenograficznej im. Jerzego Moskala (Dokręcanie śruby Brittena, 2016), Nagrody im. Teresy Roszkowskiej (2017), Nagrody im. Leona Schillera (2018). Laureatka trzeciego miejsca w kategorii "Najlepsza scenografia musicalowa sezonu 2022/2023" za scenografię do Alicji Krainy Czarów wg Carrolla w Ogólnopolskim Plebiscycie Musicalowych Premier Sezonu 2022/2023 (2023).

Realizacje w Teatrze Narodowym:
Opowieść zimowa, William Shakespeare, reż. Marcin Hycnar, 2017; scenografia i kostiumy
Letnicy, Maksim Gorki, reż. Maciej Prus, 2019; kostiumy
Śnieg, Stanisław Przybyszewski, reż. Anna Gryszkówna, 2021; scenografia i kostiumy
Baron Münchhausen dla dorosłych (prapremiera), Maciej Wojtyszko, reż. Maciej Wojtyszko, 2022; kostiumy
Mizantrop, Molière, reż. Jan Englert, 2022; scenografia i kostiumy
Alicji Kraina Czarów, wg Lewisa Carrolla, reż. Sławomir Narloch, 2023; scenografia i kostiumy